I took a risk last week, taking my 8 year old daughter to see a concert in Boston. And in doing so, we saw more than we bargained for.
The show was a Tuesday night. A school night. I really wanted to see both the opener and headliner. I bought the tickets back in July when they were first available. At the time, I planned to drag my husband along. Fast forward four months, and of course, schedules changed and he effectively bailed on me.
That left me with two tickets and three possible options: don't go; find a sitter and go by myself; or take my daughter with me. (As a side note, I'll add that most of my friends aren't fans of "my" music.)
So, back to my options and I'm not ashamed to say I used bribery and the vague hope of a day off of school on Wednesday to rope my daughter in as my sidekick. Did I mention, I really wanted to see these bands?
But sometimes, you get more than you were expecting.
We are on our way to the show. Two blocks away from the theatre, we roll up to a stop light. At that light, a car is stopped with doors ajar and people on cell phones. I don't immediately grasp what's going on until I see the man laying face down in the road.
Yikes.
I can't tell you exactly what happened, but the "event" clearly had happened minutes before and help was on the way.
I recall thinking that maybe my daughter wouldn't notice. (Yeah, right.) Just as I manuever to get around the stopped cars and out of the way, the man lifts his head, exposing that he's indeed bloodied up.
"Mom, is that man laying in the road?" My answer is interrupted by, "Mom, he has a bloody nose! Did he trip and fall? Did he get hit by a car? Is he hurt? Could he have been killed? What happened?" I'm sure there were other questions I missed in the barrage that was thrown at me.
The little mom voice in my head (the one that I thought I left at home) tells me to be truthful and use it as a teachable moment. I tell her that he likely did get hit by a car and that help was on the way. And that's why we need to be very careful when crossing the street in the city.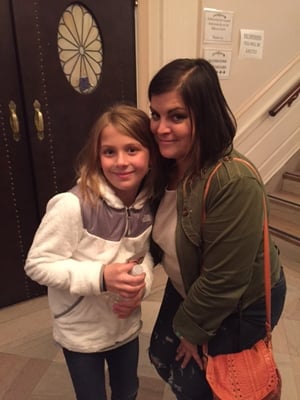 Vivian with Trisha Gene Brady of The Black Lillies
I looked at the night as a way of exposing her to some awesome live music and talented artists. I think music is something that's just as beneficial as getting a good night's sleep or spending a day at school. Maybe more, because I also think seeing musicians at work provides a love of music that will last a lifetime. That's a huge reward in my view.
So yeah, I was a little worried about keeping my daughter up late on a school night. I'm sure I got plenty of looks (that I ignored). Was I expecting a life lesson on why you should be careful crossing the street? Nope, not at all. I just knew that no matter what, we'd be glad we went and would recall a fun night.
Sometimes you gotta face some risks, even unknown ones, if you want to reap the rewards. That's true in life and even when it comes to adopting a new, Direct CAD software.
If you're considering adding Direct CAD, be prepared for:
The unexpected. It happens, even with the best planning. Something is going to crop up that you can't ignore and you're going to need to address it. It could be part of the learning curve. It could be an install gone awry. It could be your users throwing a tantrum or asking a thousand questions. No matter what it is, I can assure you that our Support Team will be there to help you through it.
Funny looks. When you tell people that you're ignoring the "popular" CAD (or music) in favor of something a little less mainstream, I give you permission to ignore the looks, the jokes and other heard-it-all-before comments that are sure to come. What matters is that the software (or music) is what floats your boat, not theirs.
Loosing a little sleep. Anything that requires some planning might cause you some worry. And there might be some late nights as you make the switch, but I know it won't be long until you can share some of your success stories with the naysayers.
The rewarding sigh of relief when you know, deep down, you made the right choice for you and your business.
To paraphrase some of our Kubotek Champions (aka KeyCreator Advocates), they've clearly owned up to the fact that they used other CAD software. Some were even dismayed to be forced to move to KeyCreator. But now? They love Direct CAD and the ease of use and freedom it affords. They have also noted that some contrary coworkers are using KeyCreator more and more, even though they might not openly admit it (yet).
I'm sure some of our newer users can relate to the risks vs. rewards they faced when getting up and running with KeyCreator. I'd love to hear from you about your experiences in the comments section.
Has anyone else faced similar risks vs. rewards decisions in life? Did you get more than you bargained for? What was the end result?
PS. We did have a great night, got home late, went to school/work the next day, a little groggy, but with a few stories to tell, no doubt. And my 8 year old, music loving sidekick? She officially turned 9 today. Happy Birthday!